The Worlds Best Bolts & Fasteners
ARP's product line contains thousands of part numbers, and has expanded to include virtually every fastener found in an engine and driveline. These range from quality high performance OEM replacement parts to exotic specialty hardware for Formula 1, IndyCar, IMSA TUDOR, NASCAR and NHRA drag racing and marine applications. As a matter of fact, ARP's customer list reads like a "who's who" of motorsports around the world. In the past several years, virtually every major championship on the planet has been won with engines prepared by ARP customers. These include Nascar Monster Energy Nascar Cup, IndyCar, Formula 1, IMSA TUDOR, NHRA Top Fuel, Funny Car & Pro Stock, Nascar Xfinity and Camping World Truck Series. And so it goes. ARP works closely with many, many teams as a supplier of engine and driveline fasteners, and has clearly become recognized as "the" preeminent source for serious racers.
ARP2000®
ARP2000 is an alloy steel that can be safely heat treated to a higher level, producing a greater strength material than 8740. While 8740 and ARP2000 share similar characteristics – ARP2000 is capable of achieving a clamp load at 220,000 psi. ARP2000 is used widely in short track and drag racing as an up-grade from 8740 chrome moly in both steel and aluminum rods. Stress corrosion and hydrogen embrittlement are typically not a problem, providing care is taken to protect the parts from moisture and the parts are kept well-oiled
L19®
This is a premium steel that is processed to deliver superior strength and fatigue properties. L19 is a very high strength material compared to 8740 and ARP2000 and is capable of delivering a clamp load at 260,000 psi. It is primarily used in short track and drag racing applications where inertia loads exceed the clamping capability of ARP2000. Like most high strength, quench and temper steels – L19 requires special care to avoid hydrogen embrittlement. This material is easily contaminated and subject to stress corrosion. It must be kept well-oiled and not exposed to moisture.
CUSTOM AGE 625 PLUS®
This newly formulated super-alloy demonstrates superior fatigue cycle life, tensile strength and toughness – with complete resistance to atmospheric corrosion and oxidation. ARP is the first to develop manufacturing and testing processes for fasteners with Custom Age 625+. Best of all it is less expensive and expected to soon replace MP-35 as the material of choice in the high strength, super-alloy field. Typical tensile strength is 260,000-280,000 psi.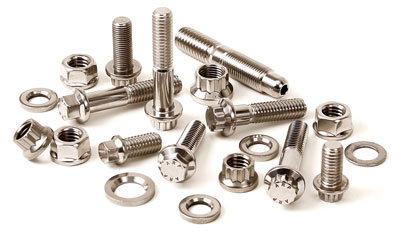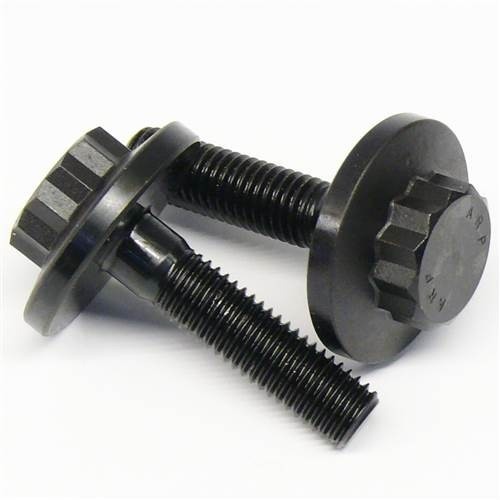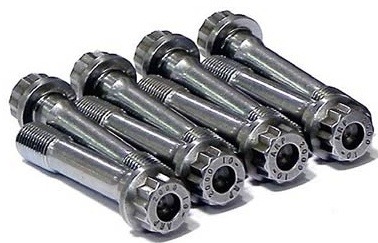 CONROD BOLTS
Conrod bolts in ARP2000, L19 and 625 custom age
HEAD BOLTS & HEAD STUD KITS
Head bolt & stud kits for increased clamping load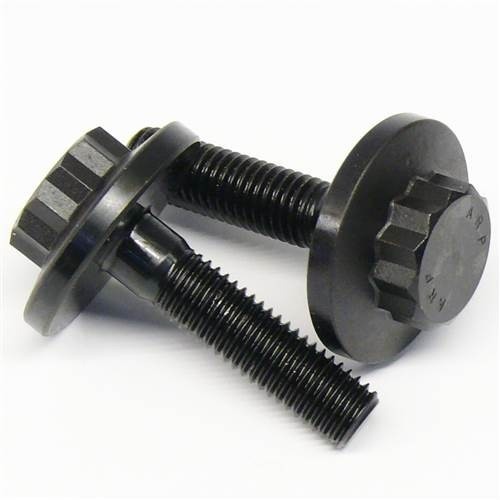 MAIN STUD KITS
Mains stud kits for all engine types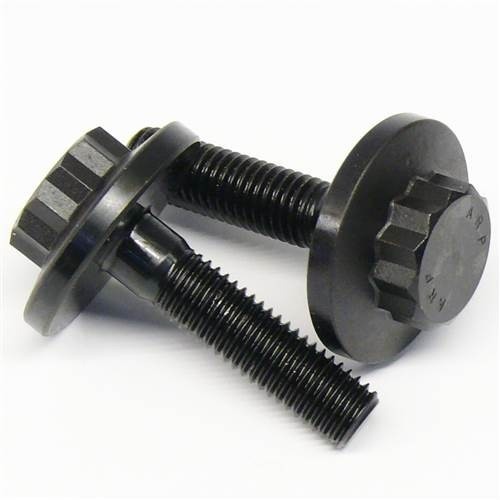 MISC BOLTS
Cam bolts, flywheel bolts and many others