Official UK Wiseco Pistons Distributor
Wiseco Pistons Advantage
Wiseco Pistons leads the performance aftermarket by producing the highest quality forged pistons for domestic automobiles, sport compact and racing applications. Wiseco is unique because they forge all of their own pistons in house, and produce all of their own forge tooling in the USA. This allows them to control all aspects of the manufacturing process from raw bar to skirt coating finished parts. 
In addition, in-house dyno testing gives Wiseco the ability to develop state-of-the-art technology such as new shapes, coatings, and components, and lead the industry through rigorous R&D. Linking all segments of Wiseco's organization through design, testing, manufacturing, and distribution allows us to fulfill market needs with minimum lead-times. 
Extreme racing conditions demand the strength and toughness that only forged pistons can offer. Compared to cast pistons, forgings are tougher and more durable, and will stand up to the abuse that high performance motorsport applications require. Most castings are brittle, have no grain structure and tend to fail catastrophically when the material yield strength is exceeded. Forgings have condensed grain that is aligned to the features of the part. This produces higher mechanical properties, and resistance to impact and fatigue. Each forging is designed to optimize the strength-to-weight ratio, and maximize performance.
Piston Engineering / ArmorGlide™ Coating
Wiseco's detailed skirt shapes and profiles are very specific to each application. Variable cam programming software developed in house allows Wiseco to produce high-performance shapes unique to only Wiseco. The skirt shape (barrel/cam) is one of the most functional areas on the piston, and provides stability and smooth operation in the cylinder bore. Stability is important for proper ring seal, reduced friction, and quiet operation. Each skirt shape is designed for a specific running clearance, based on coefficient of thermal expansion of the piston alloy. Some forging alloys expand more than casting alloys, but each Wiseco piston is designed with the proper installed clearance to produce the most power, least wear, and best seal at running temperature, for each application. Comparing installed clearances on cast vs forged parts is not indicative of the running clearance at temperature. Wiseco engineers have a strong background in all forms of racing applications, and produce the best shapes and designs in the industry. 
Custom Automotive Pistons
Wiseco engineers specialise in building custom forged pistons to your exact specifications. These pistons are made using the exact same forging process as our shelf stock parts only they are built from the ground up using specifications or sample pistons given by the customer. We have been making custom pistons for drag racing, circle track, autocross, road race, rally, and others for decades so you can trust us with a quality build. We pride ourselves in being able to manufacture just about any piston when other companies may so no because it does not fit into their mold of manufacturing. Wiseco's process is built to handle just about any project you can throw at us. If you would like a custom piston built please contact us or fill out a custom piston request and we will notify you with a price quote and minimum order quantity.
Wiseco Piston Piston Features
Wiseco pistons are forged and machined in-house and receive a full compliment of power enhancing features. Light weight forgings, extra-strength forgings, gas ports, skirt coatings, offset pins, and a variety of other features are available to insure each engine exceeds our customer's expectations. Optimised skirt profiles minimize rock and provide long skirt life in stroker applications. 
All machining is done on the newest CNC equipment to insure the tightest tolerances in the industry. Our Wiseco pistons are top of the line performance parts, built for the demanding consumer that wants nothing but the best. Some of our sport compact pistons are even matched with high quality NPR Steel nitrided rings with napier style 2nd rings.
Below are just some of the popular features found in our forged piston product lines:
Valve pocket designs allow maximum flow around the valve, allowing the use of oversized valves and high lift cams.
Piston crown shapes are designed to promote the maximum intake charge efficiency through a scavenging mixture 'Cross Flow' during intake and exhaust valve overlap. More fuel and air equals more horsepower.
Piston domes are designed for optimal quench during the compression/ combustion cycle, resulting in resistance to detonation and pre-ignition. The end product is longer engine life and increased horsepower potential.
Precision machined ring grooves with proper orifice/ accumulator volume feature calculated groove root diameters and axial widths, providing excellent surface finish and flatness, maximum ring seal, and minimized blow-by and oil consumption.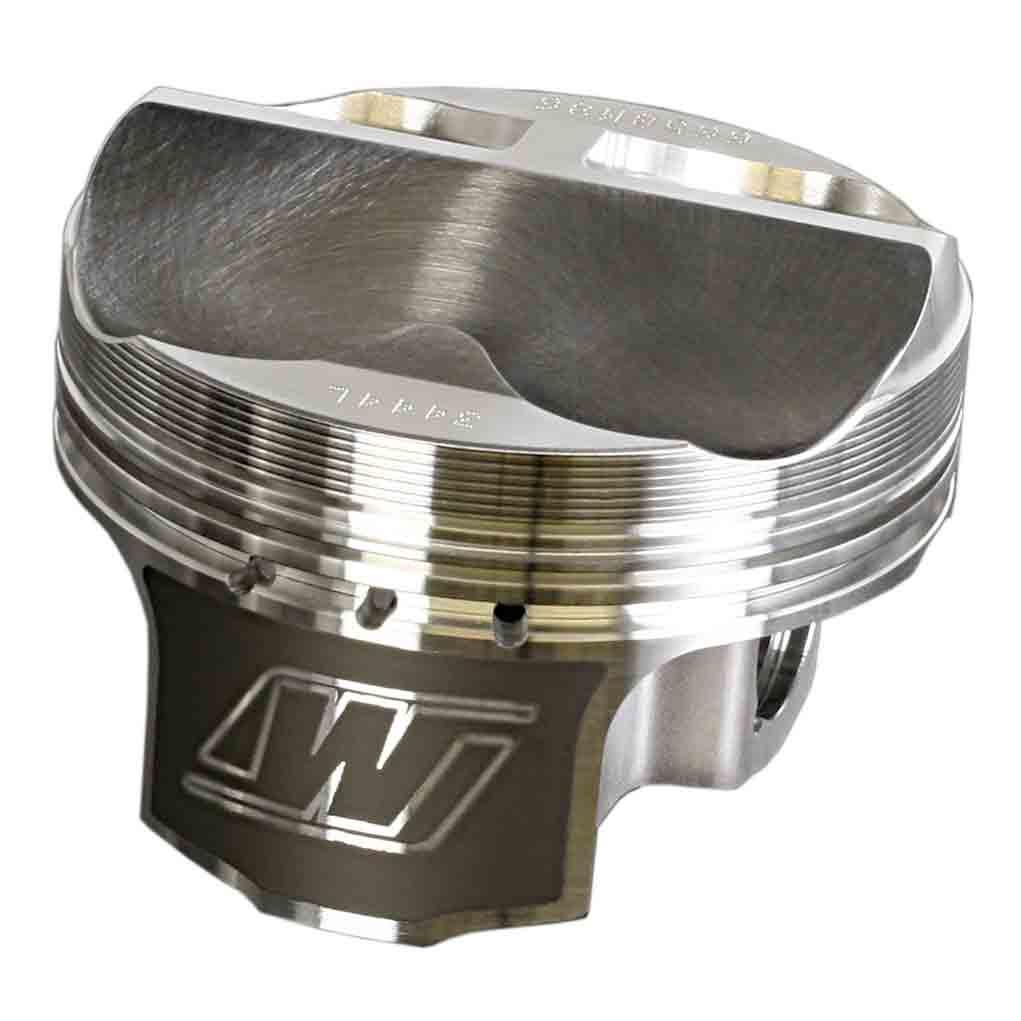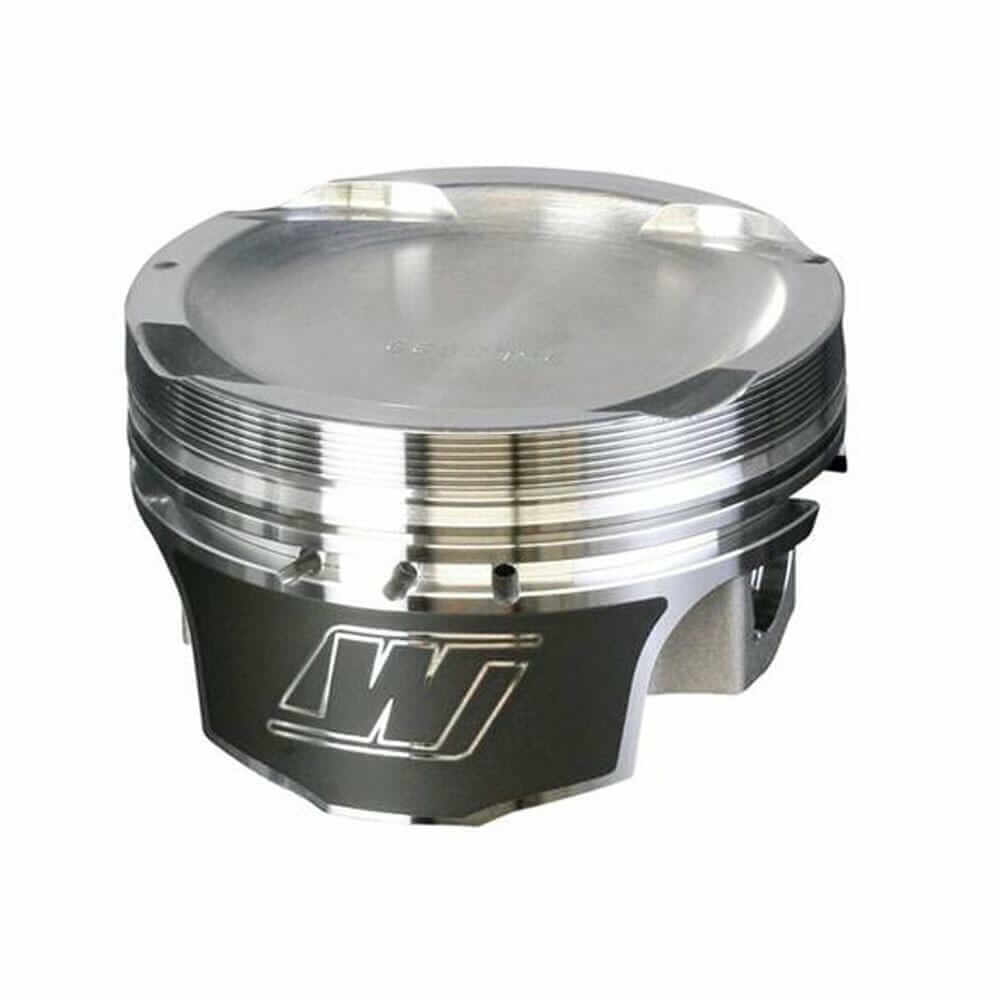 Skirt Coatings as Standard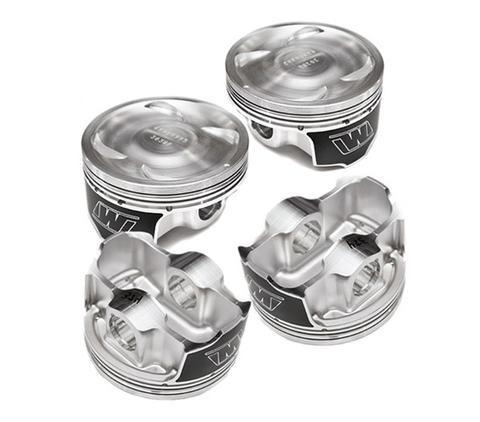 DEDICATED FORGINGS
Wiseco pistons are produced from in house manufactured dedicated forgings.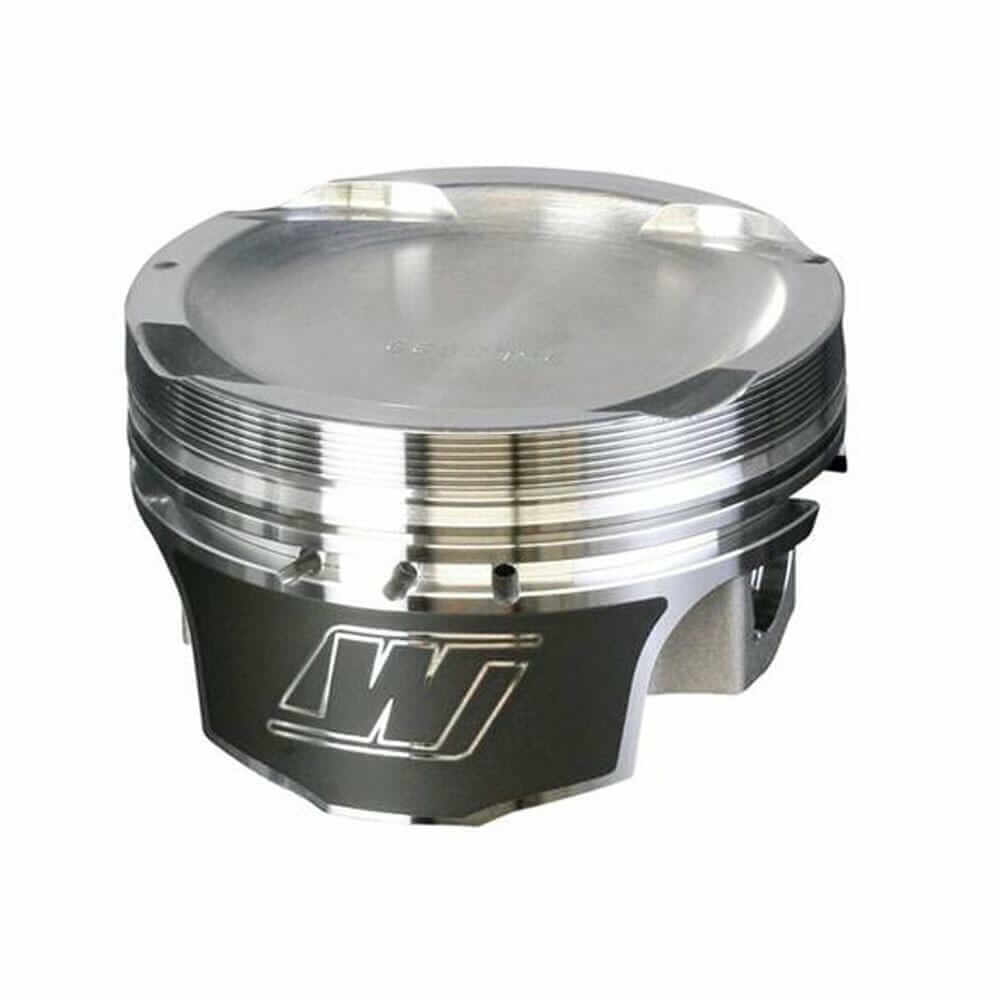 SKIRT COATINGS
anti-friction skirt coating reduces the harsh contact between the piston skirt and cylinder bore.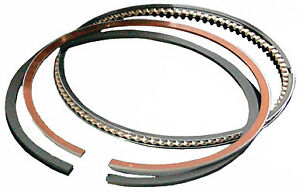 STEEL NITRIDED RINGS
Supplied with Steel nitrided performace ring packs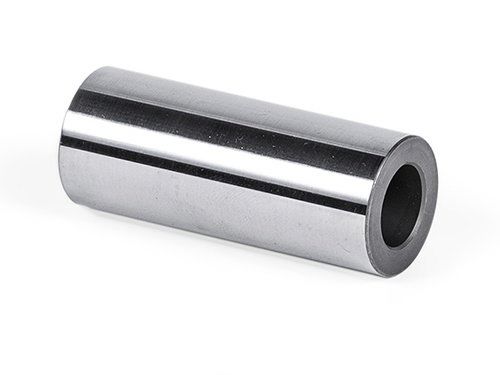 OPTIONAL PIN UPGRADES
Tool steel pin upgrades available for extreme power engines