Daido Racing Bearings
Daido Metal is a longtime manufacturer of engine bearings used in the highest levels of international motorsports. With nearly 80 years of experience, Daido bearings have chalked up victories in F1, Moto GP, World Endurance, World Rally, Motocross, Indy, and Daytona. These accomplishments have resulted from the highest levels of bearing performance, quality and reliability in the racing industry and cutting edge new production technologies.
Daido Big End Bearings
Daido Racing Bearings offer increased crush height which improves retention. Lead-Indium overlay for greater conformability and higher load capacity and  copper lead alloy for increased strength. Race specific locating lug eliminates any potential for interference with receiving slot.  100% inspected wall thicknesses eliminate sorting and ensures accurate fit.
Daido Main Bearings
Lead Indium overlay on copper lead alloy is superior to lead tin copper overlays of other bearings and has a superior combination of conformability (softness) and strength (hardness). Conformability helps the bearing surface adapt to load and shaft bending to distribute the oil film better for increased thickness and lower peak contact pressure, strength resists overlay fatigue that can lead to failure. Parting line relief (crush relief) is eliminated by use of patented Daido Multi Boring eliminating the major source of main bearing oil loss.Deep boring profile at the parting line combined with a continuous surface assure that the oil film is maintained at the parting line to reduce the risk of seizure
Pressed locating lug (racing notch) eliminates an oil leak path to the parting line chamfer. Oval oil holes reduce side leakage by increasing the distance to the edge of the bearing –
leak reduction increases oil flow to the connecting rod bearings. Buffed back steel assures maximum contact and heat transfer. Crush height is increased to assure bearing retention in aluminum blocks
Daido D-Flange Thrust Bearing
3-piece race design is a direct replacement of traditional 1-piece thrust bearings for superior end play control and thrust seizure resistance. Unique floating washers de-couple the thrust and journal surfaces for optimum shape . Washers are free to align square to the block and crank surfaces. Washer shape and journal bearing shape are not influenced by each other. High silicon aluminum bimetal resists seizure better that un-plated copper
Ramp and pad design increases oil film and axial load capacity. Separate washer processing assures optimum flatness and thickness control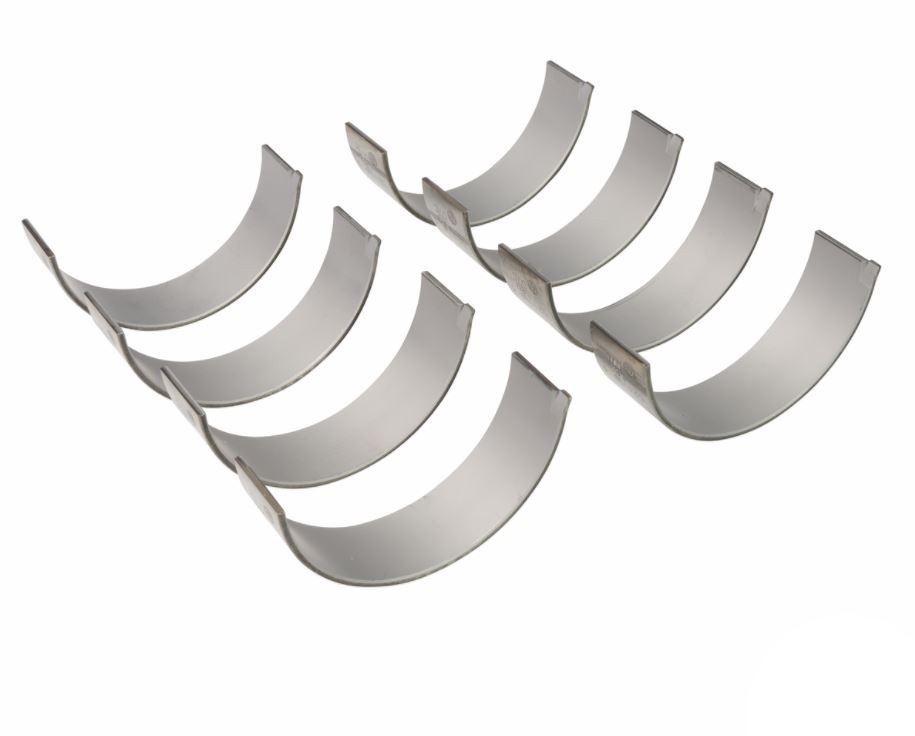 Daido Metal Motorsport / Racing Big End Bearings